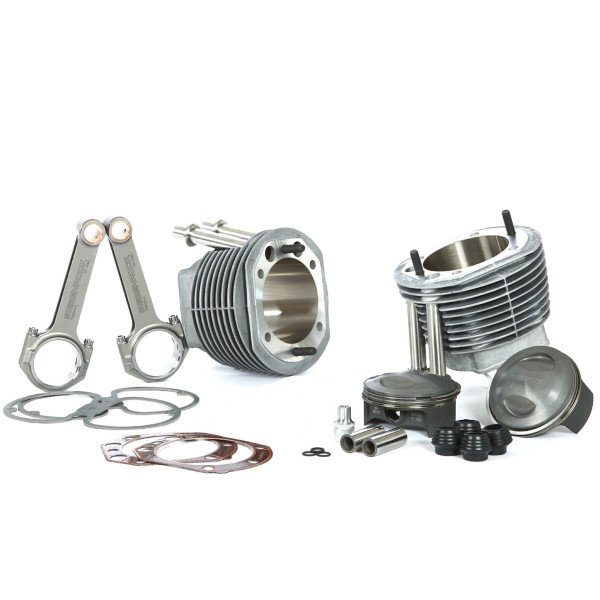 Please inform me as soon as the product is available again.
Plug & Play Kit with clearance as far as the camshaft is concerned. "Piston capacity can only be...
more
Big Bore Kit 1070cc Custom
Plug & Play Kit with clearance as far as the camshaft is concerned.

"Piston capacity can only be replaced by even more piston capacity" – this was the adopted motto during the company-internal development of the Siebenrock Big Bore Kit. The goal of this construction was to enhance the motor characteristics which were already outstanding thanks to the Power and Replacement Kits. We didn't just say this, we went out and did it and the result for all BMW 1000 cc models from 1981 onwards was the 1070 cc Big Bore Kit, which turned out to be the ultimate solution for sporty touring riders. After modification, an amazing 80 hp is available at an engine torque of 92Nm. That's what we call a convincing result.

This performance boost was achieved using 151 millimetre long, high-stability connecting rods which, when weight-optimized and fitted with ARP screws, only put 450 grams on the scales. Quite apart from this, 98 millimetre, weight-optimized pistons are used which only weigh 428 grams including the rings, bolts and clips. Thanks to the well-designed piston form, it is not necessary to adapt the cylinder head to the big bore.
All of the parts required to mount the kit are included within the scope of delivery.

Siebenrock product.
Each original Siebenrock product bears this seal that guarantees the highest quality possible, consistently optimized down to the last detail.

The scope of delivery includes the following parts:

2 cylinders with pistons
Piston rings
Connecting rod with ARP screws
Gasket set cylinder
Socket for connecting rod screws.

TIP
Conrod bearing shell, art.no. 1124460, must be ordered seperately !

With MOT/TÜV approval and installation instruction.
Price for the set.

For the classic BMW 2-valve Boxer models
R 100, R 100CS, R 100RS, R 100RT
Monolever Modelle R 100RS (x), R 100RT (x)
Paralever Modelle R 100GS (x), R 100R (x).

(x) = only permitted for vehicles up to 31.3.1994.

TIP
The use of dual ignition is strongly recommended.
Ready-to-install camshaft including camshaft gear and front camshaft bearing on request.
Downloads "Big Bore Kit 1070cc Custom"
Read, write and discuss reviews...
more
Customer evaluation for "Big Bore Kit 1070cc Custom"
Write an evaluation
Evaluations will be activated after verification.